Source: Twitter and Threadreaderapp Currently all over the world millions of doctors are working under war-like conditions. So I am reminded of my grandfather and my father. My grandfather was a military surgeon all through the first world war and again all through the second world war. My father was a paramedic all through the second world war and a young doctor in american and french camps until he finally was released in 1948. He was a good father, but he could not speak and I could not hear: -> They cold not speak, we could not hear He belonged to the age-group who finished school early at the age of 17, this was in 1937. He wanted to be an engineer, but his father told him: "If you want to survive the war, go and study medicine". He applied for medicine, was drafted and became a paramedic-cum-med-student. He saw the westerns front and then the long war in Russia up to Stalingrad. He collected and treated his wounded buddies. In between he was sent to the university to study. Summer 42 he felt sick, but suppressed it, because he knew any sickness would end studying. Then came Stalingrad. Towards the end he received a marching order to Freiburg University. He made it with one of the last possible transports. Hepatitis broke out, when he was back home and in 1944 he resumed his studies in Freiburg. Freiburg was bombed in 1944 and the faculty of medicine was sent to Lower Saxonia. His professors manged the final medical exams including a doctoral thesis. By the end of the war he was a normal soldier in northern Germany with a paper in his pocket saying he was a doctor. They waited and thought the war is over. These were the last letters my family received. His unit was taken prisoners and handed over to the american army. From a letter of an early released buddy I know, that my father was in Remagen, Sinzig and Andernach, similar to this.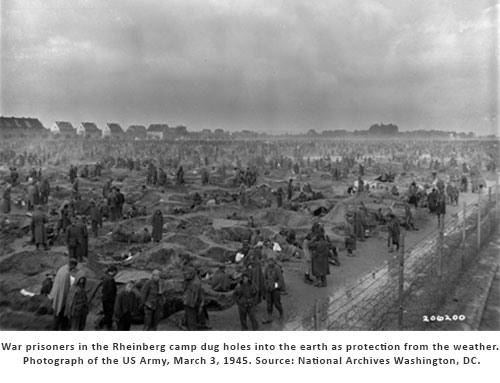 My father was never able to talk about these months. All he sometimes said, were small sentences like "This was the worst, I ever experienced in my whole life". There are hundreds of eye-witness-accounts: No registration, starvation diet, not enough water, no shelter, rain, … The status of these soldiers (from normal units, SS and top Nazis were kept in other camps) was that of "disarmed enemy forces", meaning no inspection of the Red Cross of those camps. A Red Cross photo of a dissolved camp: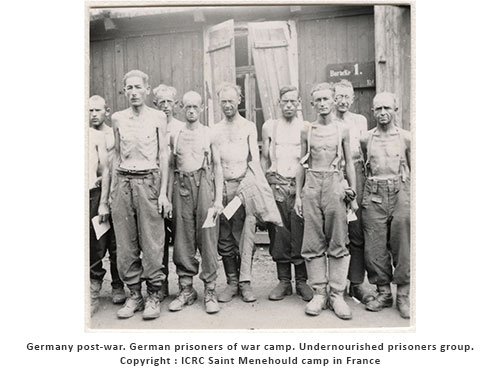 But this was also a journey of hope and dispear. They were not released but sent to France into more camps. Food in France was also scarce and of bad qualtity, but my father with his paper was used in the "depots" as a doctor. So he got more food, but was released very late. I heard him many times talk about France and he liked to visit France, to meet french people, who had helped him. He liked to talk french and to meet french people.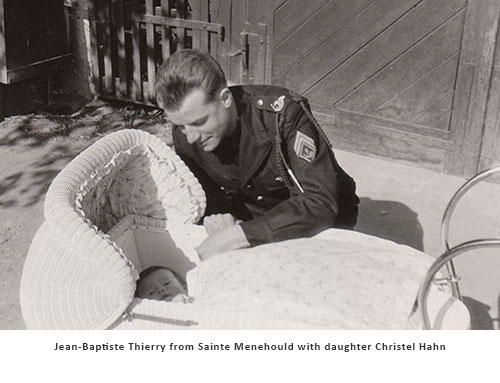 My father was severly traumatized, but did a lot to heal. He worked hard as a family doctor, but you could always see, that he had done this for 10 years during the war. His body was not in a good shape, but he lived up to the age of 86. Around that time I started to see and understand his fate. And through this I could also start to understand my life, which had been as chaotic as you can image. I returned to live with my parents in 2002 and helped them with their live until they died, both in our home, in 2006 Now we are in 2020 with Corona, but its also the year 75 after the end of the last war in 1945. The german president had planned a "Staatsakt" for the 8th of Mai, but it will not happen due to Corona: -> Staatsakt aus Anlass des 75. Jahrestages des Endes des Zweiten Weltkrieges und der Befreiung vom Nationalsozialismus am 8. Mai 2020 in Berlin abgesagt 1945 was also the year of the liberation of the Nazi concentration camps. There have been small events to commemorate this, this was last week in Dachau: -> Söder und Aigner gedenken der Opfer des Nationalsozialismus By looking back on my life and that of my peers and on the live of my father, it is very clear, that to commemorate the sufferings of germans, be it as refugees from the east or as starving civilians and DEFs is an act of simple humanity and healing of our collective fate. So this thread is dedicated to my father and the many other german soldiers and their suffering as DEFs in american camps. Their fate needs to be known and seen, documented and researched by historians and commemorated in love by their sons and daughers, …